Healthcare in the Patient's World
Telehealth Helps Neurologist Tailor Care to Fit Individual Needs
Author: Pam Malinoski
When the providers at St. Croix Regional Medical Center (SCRMC) thought about telemedicine prior to the COVID-19 pandemic, most didn't believe that they could provide comparable care remotely. After the coronavirus pandemic forced them to embark on the journey, many have found that they can not only provide a multitude of healthcare services using telehealth tools, but they can do so in a way that better fits into the patient's world.
This was certainly the case for Dr. Gurdesh Bedi, a neurologist at SCRMC and the first medical director of the Kinisi Institute of Movement. SCRMC is in the gpTRAC region and has benefited from previous training conducted by Jonathan Neufeld, Director of gpTRAC. Dr. Bedi shares how telehealth has helped him meet the unique needs of Parkinson's disease patients, Wisconsin snowbirds, and even a college student.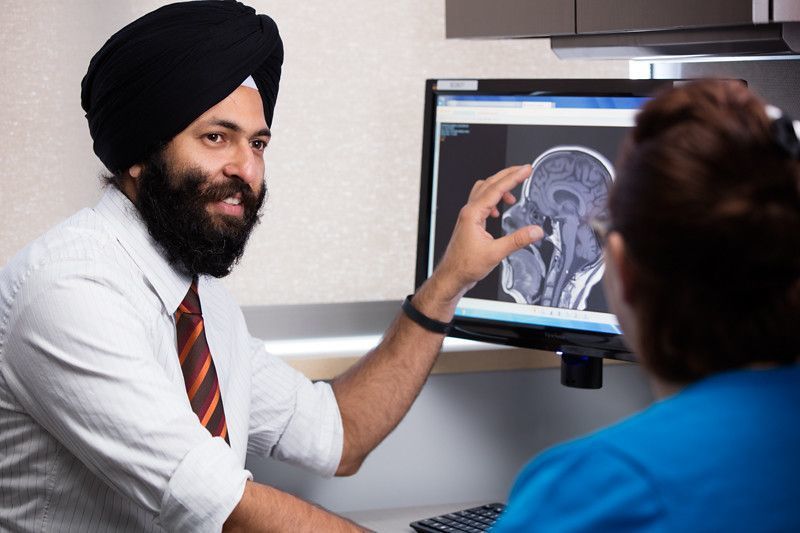 Never Say Never
When SCRMC made the shift to virtual appointments at the beginning of the pandemic, Dr. Bedi was up for the challenge--with the exception of his Parkinson's patients.
"I assumed I could never evaluate a Parkinson's patient remotely because I didn't think I'd be able to accurately evaluate their tremors or gait through a video call," Dr. Bedi explained. As luck would have it, a Parkinson's patient wanted to schedule an online appointment with Dr. Bedi on the very first day of our telemedicine rollout. "At first, I told him I couldn't do the appointment virtually, but after he was insistent, I told my nurse to warn him that I wouldn't be able to do a very good job."
During that telehealth appointment, the patient expressed a great deal of gratitude for the online appointment. He explained how difficult it was for him to physically leave his house, get into a car, manage through the drive and the parking lot, and even get through the waiting room into the exam room for an in-person visit. He said it was a "week long" preparation effort for him and being able to call in from his living room was so much better.
After a little experimentation, Dr. Bedi discovered that if the patient placed his phone on the floor and walked about six feet away and then toward the phone until he got only two feet away, he could actually see how his gait was, and much shaking was present in the patient's limbs. Other measures such as facial expression, emotional and cognitive status, and urinary and bowel symptoms could easily be discussed during a face-to-face video call. Although a telehealth visit was not perfect, Dr. Bedi felt that a fairly large part of the patient's assessment and care could be provided using telemedicine and in a much safer and more convenient manner.
"It is such an alien movement for these Parkinson's patients to go from a wheelchair to a car and back again," Dr. Bedi said. "Now that I have found a way to deliver care remotely to this group of patients and found it so beneficial to the rest of their life, I don't think I've seen one Parkinson's patient in my office since."
Prompt Specialty Treatment for Snowbirds
Many Wisconsin residents choose to become "snowbirds" in their later years, moving south to a warmer climate in Florida or Arizona for five or six of the coldest months. Although these individuals often have primary care doctors in both locations, they typically keep their specialty care in Wisconsin alone. In the past, if a non-emergency healthcare issue that required speciality care came up while they were in their southern home, these patients simply delayed treatment until they returned to Wisconsin.
With the relaxation of reimbursement and state-line licensure regulations during the pandemic, Dr. Bedi was able to conduct telehealth video calls with his snowbird patients this year. "I had one patient with headaches whom I've seen for the past five or six years," Dr. Bedi explained. "He was in his southern home this past spring, and he had Bell's palsy. Usually, this is a temporary condition that resolves on its own with minimal treatment. However, during my video visit with him, I noticed that he also had a lazy eye that he didn't report over the phone.  
"Now, usually one nervous system problem isn't a big thing to worry about," Dr. Bedi continued. "However, if a patient has two problems at the same time, the reason is usually exponentially more serious. I was able to order an MRI and get the results quickly, and I found that he had three pea-sized tumors in his brain. If this patient would have delayed care for another six weeks until he returned home, those tumors could have been golfball-sized or larger."
Personal Rapport During Isolation
When a colleague of Dr. Bedi's had a daughter interested in shadowing him for a day, he didn't expect her to become a patient. Serendipitously, this high school student had the first seizure of her life during that shadowing visit. Dr. Bedi then went on to care for this patient and continued her check-up visits remotely when she left for college at the University of Wisconsin in Madison.
"During my first telehealth visit, I asked her how things were going," Dr. Bedi recalled. "She was explaining how it didn't feel like college due to the isolation requirements; she was just stuck with her couple of roommates. I asked her to show me something on campus so she held her phone out the window and explained what she was seeing.
"Now, when I do my check-up visits with her, she always calls me from someplace different on campus," Dr. Bedi chuckled. "Sometimes she's on the steps of the library or near a particular statue, and we always talk about what's around her. I think telehealth helps me form a closer and different kind of bond with her."