Taking Care of Agricultural Workers
Non-profit creates effective educational, testing and follow-up program during COVID-19
Author: Pam Malinoski
Every spring and summer, farmers across the country hire thousands of seasonal workers including migrant families to bring in the harvest. During 2020, farms faced a special challenge with the COVID-19 global pandemic. Since workers lived communally, those who tested positive had to be quarantined from the larger population. Telehealth technology was used to check in daily with those quarantined patients.
"Through the H-2A program, the U.S. Department of Labor allows the temporary agricultural employment of foreign workers," explained Daniel Hoffman-Zinnel, CEO of Proteus in Iowa, which is a non-profit organization that provides agricultural workers and their families with affordable health care, education assistance, and job training. Proteus is a member of the Iowa Primary Care Association, which has received training and consulting services from gpTRAC. "The program brings in thousands of individuals who require food, housing, health care, and transportation between June and August each year."
Proteus works with many farms that employ these agricultural and migrant workers. "We have a fairly unique delivery model," Hoffman-Zinnel said. "Before COVID, we had three clinic sites for individuals to access healthcare services. However, we also operated many mobile clinics. We'd either bring the clinic to serve the farms on-site or we'd find a partner in the community that had extra space like a church and provide healthcare there."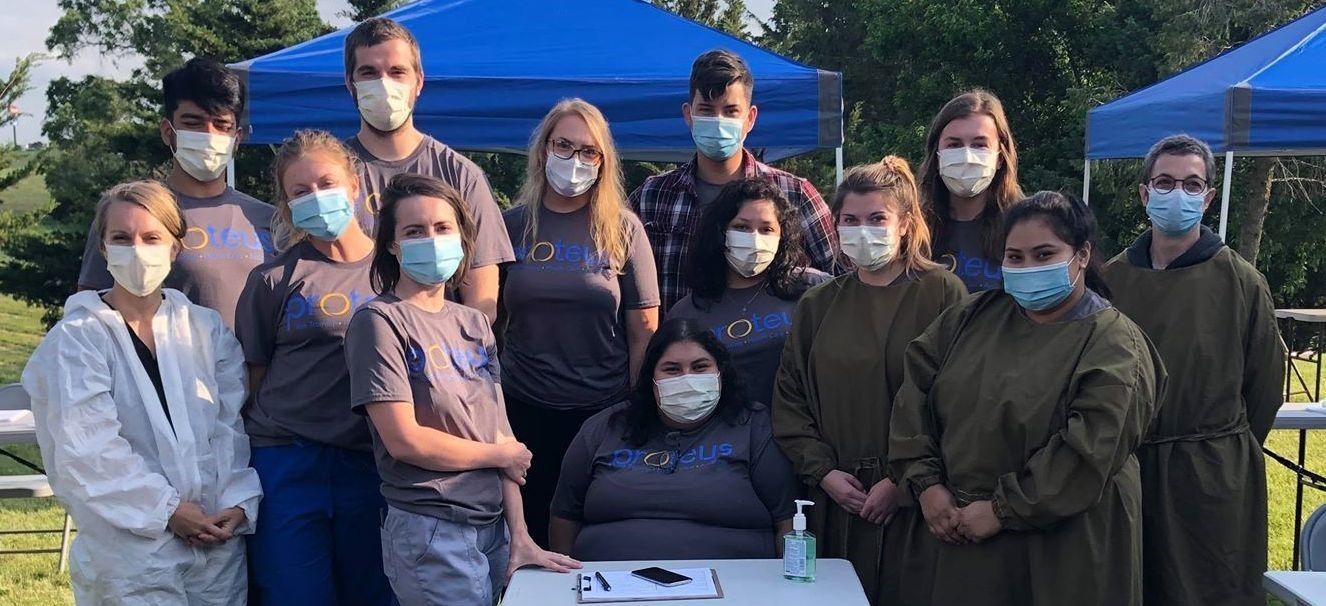 Education First
When the global pandemic began in the spring of 2020, there was a great deal of fear and misunderstanding about COVID-19 prevention and testing.
"We learned as we went along," Hoffman-Zinnel said. "We started by providing education both in English and in Spanish about COVID prevention, wearing face masks, and all the other suggestions made by the CDC. We heard that there was a lot of fear and myths about the testing itself, so we either had a volunteer or a staff member take the test in front of the group so they would know what to expect. We wanted to show them it was easy and painless to get tested."
Testing Everyone
When Proteus began, only selected individuals were tested in April and May. By June, they were able to test everyone in their population and found 3% of the more than 500 tests conducted came back positive. By July, that number increased to 8% and by August to 7%. Positive cases dropped significantly in September to under 3%.
"We wanted to test everyone because these workers were all living and working in communal spaces," Hoffman-Zinnel said. "Everyone was already separated by pods so they traveled, worked and lived with the same people, which helped contain the spread of the virus."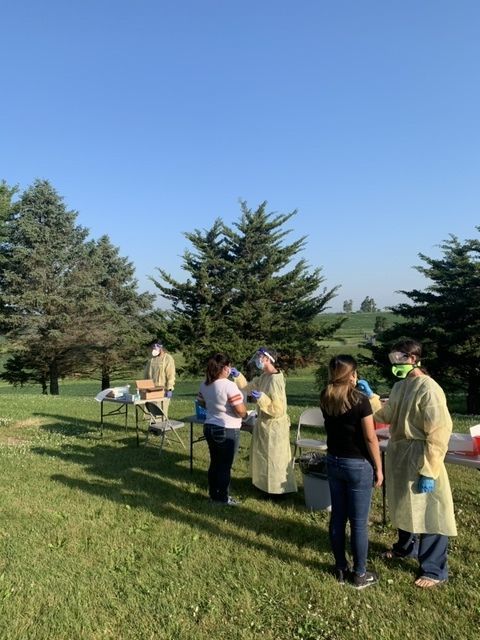 Daily Follow-Up
What made Proteus' COVID-19 testing program different from many others was the daily follow-up that happened after positive cases were identified.
"If the state tested you, they would tell you to follow-up with your primary care provider," Hoffman-Zinnel said. "We actually continued caring for and monitoring our positive cases." Proteus had secured funding that allowed all isolated cases to be housed in a nearby hotel. Two hot meals were delivered each day to those who tested positive for COVID.
"Our staff then checked in with each isolated patient through a telehealth appointment every day," Hoffman-Zinnel said. "I think that made a huge difference. These agricultural workers are accustomed to working through pain and illness; they are incredibly hard workers. If we didn't have providers checking in with them, they may not have gotten the care they needed."
All agricultural workers who tested positive were isolated, and although there were a few hospitalizations and a few patients in intensive care, there have been zero deaths.
"I think it took our providers talking with them every day and directing them to hospitalization at the right time that made a difference," Hoffman-Zinnel said. "I believe it was a life-saving program."