A Web of Care for Our Elderly
Montgomery County Memorial Hospital works with nursing facilities to provide safer care
Author: Pam Malinoski
Regular visits from healthcare professionals as well as occasional trips to Montgomery County Memorial Hospital (MCMH) in Iowa for appointments, tests, and imaging were a normal part of the lives of residents at various nursing homes and long-term care facilities located in southwest Iowa. But when the news about COVID-19 hit in late winter this year, particularly how it was devastating the population in a Seattle-area nursing home, everyone knew changes needed to be made.
MCMH, a Program Advisory Council (PAC) member of the Great Plains Telehealth Resource & Assistance Center (gpTRAC), began working with its nursing homes and long-term care partners in the area to create non-contact ways to provide the quality care these residents needed. The hospital also worked directly with the rural elderly population who were still in their homes.
Telehealth Beneficial to Elderly Patients
According to Emily Maass, a nurse practitioner at the internal medicine clinic at MCMH, new telehealth options that were put in place during the early days of the pandemic were particularly beneficial for the clinic's older patients.
"We worked hard to accommodate our patients, depending on what resources they had," Maass explained. "Some just wanted to connect by phone while others were comfortable using Facetime or Zoom. In many cases, if they had a minor issue that didn't require a physical assessment, we could take care of them through telehealth visits. It not only helped our elderly patients stay more comfortable in their own surroundings but also reduced exposure for both our patients and our staff."
Partnering with Long-Term Care Facilities to Provide Care
MCMH worked with nursing homes and other long-term care facilities in the area to provide health care services. For chronically ill patients, providers would often make in-person visits at facilities on a regular basis. Due to COVID-19, long-term care facilities wanted to minimize exposure for their residents and moved to using telehealth technology to provide non-contact care.
"We worked with the on-site nursing staff at the long-term care facilities by connecting through Zoom via an iPad," Maass explained. "An on-site nurse would take an iPad, go to the resident's room and then connect with us. We'd all work together to review the patient's condition. We could all see one another. The on-site nurse could take vitals and share concerns that may have come up from family or others who knew the patient well. The resident could ask questions and share concerns. If any of us at the hospital wanted to order imaging, labs, or change medications, we could do that remotely as well."
All team members found that working together with the residents through telehealth technology was particularly helpful for patients with dementia, hearing problems or those with mental health issues.
"Patients who might have been worried about coming into a doctor's office were much more comfortable in their own surroundings," Maass said. "It's been very beneficial."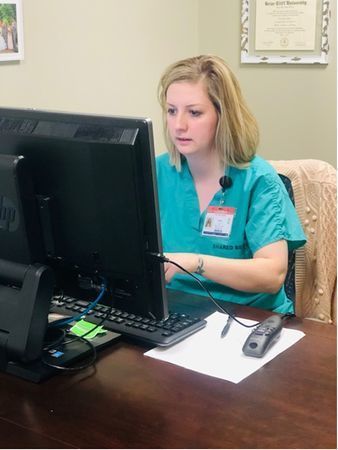 Telehealth Options to Stay
When MCMH began offering telehealth options in March 2020, it was in response to the global pandemic.
"We seemed to have a great deal of interest in the beginning, and things slowed down somewhat in the summer,"  Maas said. "Now, I think we've seen an increase in telehealth usage in the fall with the addition of viral illnesses that often have the same symptoms as COVID-19. Moving forward, even past the pandemic, I can see us utilizing telehealth on an ongoing basis particularly during the winter months."
MCMH has been serving its community since 1907. The facility has always been committed to employing the best medical technology as well as new ways to best serve its patients. Telehealth is one of the latest ways MCMH has worked to do just that.