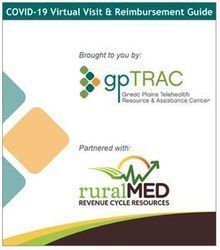 Medicaid Policies
TELEHEALTH DEFINITION: "Asynchronous telehealth service" is telehealth that is used to transmit medical data about a patient to a provider when the transmission is not a 2-way, real-time, interactive communication. "Interactive telehealth" means telehealth delivered using multimedia communication technology that permits 2-way, real-time, interactive communications between a certified provider of Medical Assistance at a distant site and the Medical Assistance recipient or the recipient's provider (reimbursable).
PREREQUISITES TO TELEHEALTH: Certified providers of Medical Assistance are not required to have additional certification or meet additional requirements to deliver telehealth
ADDITIONAL PROVIDER REQUIREMENTS: The department may require providers to show that the telehealth service is functionally equivalent to face-to-face
NON-COVERED SERVICES: Store and forward, services that are not covered when delivered face to face
REMOTE MONITORING: Reimbursed (along with Remote physiologic monitoring, Remote evaluation of prerecorded patient information, Brief communication technology-based services, Care management services delivered through telehealth, Any other telehealth or communication technology-based services.)
ORIGINATING SITES ELIGIBLE FOR FACILITY FEE: Hospitals (including ED), office/clinic, SNF
PROVIDERS AT DISTANT SITES: Audiologists, Individual mental health and substance abuse practitioners not in a facility certified by the DQA (Division of Quality Assurance), Nurse midwives, Nurse practitioners, Ph.D. psychologists, Physician assistants, Physicians, Psychiatrists, Professionals providing services in mental health or substance abuse programs certified by the DQA
FQHCs & RHCs:
PROSPECTIVE PAYMENT SYSTEM (PPS) REIMBURSEMENT STRUCTURE
Services that are currently reimbursed at the PPS rate for Medicaid is reimbursed when delivered via telehealth provided it is functionally equivalent
Some services are considered "indirect" and are not eligible for a PPS rate as they are wrapped into the PPS rate
Some FFS services such as SBIRT
OTHER WI MEDICAID POLICIES:
Temporary COVID-19 Policies (WI Medicaid)
NEWLY ELIGIBLE SERVICES:
WAIVED REQUIREMENTS:
OTHER TEMPORARY WI MEDICAID POLICIES:
---

Commercial Payer Policies
There is no private payer telehealth parity legislation in Wisconsin
Temporary COVID-19 Policies (WI Commercial Payers)
A letter from the Office of the Commissioner of Insurance "requests that medical malpractice insurers provide coverage for telemedicine under the same terms for providers as if they were providing services in-person.
Out of state practitioners can practice in Wisconsin without first obtaining a temporary license
---

Medical Board Policies
Out-of-state physicians must hold a valid Wisconsin medical license in order to diagnose and treat patients located in Wisconsin
A physician-patient relationship may be established through telemedicine.
Providers cannot provide treatment recommendations/prescription based on a "static electronic questionnaire"
Telemedicine abortions are prohibited
Wisconsin Professional Licensure Compacts
Interstate Medical Licensure Compact
EXPIRED: Temporary COVID-19 Policies (WI Medical Board)
According to Governor's executive order:
Physicians providing telemedicine to patients in WI must have a valid and current license from WI, another state, or Canada
* This temporary guidance is expired due to the Wisconsin Supreme Court ruling (5/13/2020)
---

Mid-Level Providers
Wisconsin Medical Examining Board Rule CR 15-087, Chapter 24: "The rules in this chapter may not be construed to prohibit any of the following: … Use of telemedicine by a physician assistant licensed by the medical examining board to provide patient care, treatment, or services within the licensee's scope of practice under s. Med 8.07."
Wisconsin Mid-Levels Professional Licensure Compacts
Enhanced Nurse Licensure Compact
EXPIRED: Temporary COVID-19 Policies (WI Mid-Levels)
According to Governor's executive order:
Physicians providing telemedicine to patients in WI must have a valid and current license from WI, another state, or Canada
Scope and limitations for Physician Assistants partially altered
Scope and limitations for Nurses partially altered
* This temporary guidance is expired due to the Wisconsin Supreme Court ruling (5/13/2020)
---

Behavioral Health Providers
Psychologists licensed in other states may provide services in WI for no more than 60 working days in a year
There are no commercial payer telehealth statutes in WI
Wisconsin Mental Health Professional Licensure Compacts
None 
EXPIRED: Temporary COVID-19 Policies (WI Mental Health)
According to Governor's executive order:
Physicians providing telemedicine to patients in WI must have a valid and current license from WI, another state, or Canada
An individual credentialed by the MPSW Examining Board or authorized to practice in Wisconsin under PHEO #16 or Act 185 §105 (6) may provide treatment to individuals physically located in Wisconsin via telehealth so long as the treatment is within provider's scope of practice

* This temporary guidance is expired due to the Wisconsin Supreme Court ruling (5/13/2020)