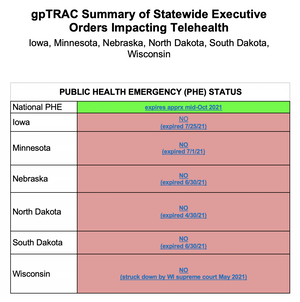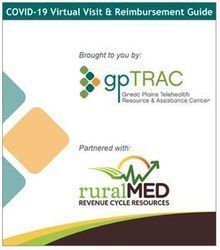 Medicaid Policies
*Effective January 1, 2022 (published July 2021)* If POS code 02 is not listed as an allowable POS for a procedure code, the service will not be reimbursed under permanent Medical Assistance telehealth policy. Providers will be required to bill permanent synchronous telehealth services with POS code 02 and the GT modifier.
*proposed update* Medical assistance telehealth excludes audio-only from its definition (except for mental health therapy). See SB306 and AB259.
*proposed update* Update administrative rules that guide behavioral health services reimbursed by Medical Assistance to align with the telehealth policies in Act 56 (2019). This will bring the Department of Health Services' Division of Care and Treatment Services into compliance with Act 56.
*proposed update* Revise Department of Health Services Chapter 75 to update language around substance use disorders, better align SUD services with evidence-based practice standards in the industry, and address gaps in service delivery related to the opioid epidemic in. All requirements in this chapter shall also be applicable to telehealth services delivered under this chapter.
*proposed update* Amend Medical Assistance telehealth rules specifying certain reimbursable and non-reimbursable Medical Assistance telehealth services.
TELEHEALTH DEFINITION: "Asynchronous telehealth service" is telehealth that is used to transmit medical data about a patient to a provider when the transmission is not a 2-way, real-time, interactive communication. "Interactive telehealth" means telehealth delivered using multimedia communication technology that permits 2-way, real-time, interactive communications between a certified provider of Medical Assistance at a distant site and the Medical Assistance recipient or the recipient's provider (reimbursable).
SERVICE PARITY: The Department of Health cannot require Medical Assistance providers to meet additional criteria solely because they are delivering services via telehealth. The services must be "functionally equivalent to face-to-face contact."
PAYMENT PARITY: "The department shall provide reimbursement under the Medical Assistance program for any benefit that is a covered benefit under s. 49.46 (2) and that is delivered by a certified provider for Medical Assistance through interactive telehealth." Additionally, the Department cannot limit reimbursement based on the location of the recipient when the service was provided.
PREREQUISITES TO TELEHEALTH: Certified providers of Medical Assistance are not required to have additional certification or meet additional requirements to deliver telehealth
ADDITIONAL PROVIDER REQUIREMENTS: The department may require providers to show that the telehealth service is functionally equivalent to face-to-face
NON-COVERED SERVICES: Store and forward, services that are not covered when delivered face to face
REMOTE MONITORING: Reimbursed (along with Remote physiologic monitoring, Remote evaluation of prerecorded patient information, Brief communication technology-based services, Care management services delivered through telehealth, Any other telehealth or communication technology-based services.)
ORIGINATING SITES ELIGIBLE FOR FACILITY FEE: Hospitals (including ED), office/clinic, SNF
PROVIDERS AT DISTANT SITES: Audiologists, mental health and substance abuse practitioners, Nurse midwives, Nurse practitioners, Ph.D. psychologists, Physician assistants, Physicians, Psychiatrists
FQHCs & RHCs:
PROSPECTIVE PAYMENT SYSTEM (PPS) REIMBURSEMENT STRUCTURE
Services that are currently reimbursed at the PPS rate for Medicaid is reimbursed when delivered via telehealth provided it is functionally equivalent
Some services are considered "indirect" and are not eligible for a PPS rate as they are wrapped into the PPS rate
Some FFS services such as SBIRT
OTHER WI MEDICAID POLICIES:
Temporary COVID-19 Policies (WI Medicaid)
Wisconsin's ForwardHealth guidance is set to expire December 31, 2021
NEWLY ELIGIBLE SERVICES:
WAIVED REQUIREMENTS:
OTHER TEMPORARY WI MEDICAID POLICIES: