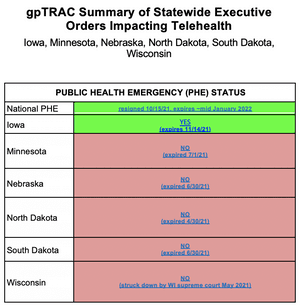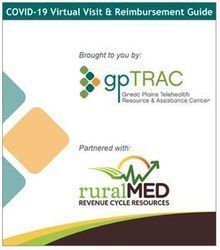 Medicaid Policies
*Effective January 1, 2021 (retroactive)* ORIGINATING SITES: The South Dakota Medicaid State Plan was altered to allow substance use disorder agencies to be reimbursed an originating site fee for acting as a telemedicine originating site.
*Effective July 1, 2021* South Dakota Medicaid has removed the "same community limitation" that previously prohibited previously did not allow telemedicine services to be covered if patient and provider were both located in the same community
TELEHEALTH DEFINITION: "The delivery of health care services through the use of HIPAA-compliant interactive audio-video." Does not include audio-only, email, text, mail, or fax.
SERVICE PARITY: "No health insurer may exclude a service for coverage solely because the service is provided through telehealth and not provided through in-person consultation or contact between a health care professional and a patient." Additionally, insurers "may not discriminate between coverage benefits for health care services that are provided in person and the same health care services that are delivered through telehealth."
These requirements DO NOT apply to policies that ONLY provide coverage for: Specified disease; Hospital indemnity; Fixed indemnity; Accident-only; Credit accident and health insurance; Vision; Prescription drug; Medicare supplement; Long-term care; Disability income insurance; Coverage issued as a supplement to liability insurance; Workers' compensation or similar insurance; Automobile medical payment insurance; or Individual health benefit plans of six-months or less duration that are not renewable.
REMOTE MONITORING: Not covered outside of public health emergency
ORIGINATING SITES: Practitioner office, outpatient hospital, CAHs, RHCs, FQHCs, IHS clinics, CMHCs, nursing facilities, schools
PROVIDERS AT DISTANT SITES: Certified Social Worker – PIP, Certified Social Worker – PIP Candidate, Clinical Nurse Specialists, Community Health Worker (CHW), Community Mental Health Centers, Dentists, Diabetes Education Program, Dieticians, FQHCs, Indian Health Services (IHS) Clinics, Licensed Marriage and Family Therapist, Licensed Professional Counselor – MH, Licensed Professional Counselor – working toward MH designation, Nurse Practitioners, Nutritionists, Physicians, Physician Assistants, Podiatrists, Psychologist, RHCs, Speech Language Pathologists, Substance Use Disorder Agencies, Tribal 638 facilities
* Speech therapy services can be provided via telemedicine AFTER an initial face-to-face visit
FQHCs & RHCs:
Reimbursement for distant site telemedicine services is limited to the individual practitioner's professional fees or the encounter rate if the service qualifies as an FQHC/RHC or IHS/Tribal 638 clinic service. The maximum allowable amount for services provided via telemedicine is the same as services provided in-person.
Providers eligible to generate a PPS encounter: Dentist; Nurse practitioner; Physician; Physician assistant; Psychologist; CSW-PIP; CSW-PIP Candidate; LPC-MH; LPC working toward MH designation; Clinical Nurse Specialist – Mental Health; Licensed marriage and family therapists; Substance Use Disorder Agencies accredited by the Division of Behavioral Health; and Visiting nursing services may be provided by a registered nurse or a licensed practical nurse.

Ineligible providers: Registered nurses and licensed practical nurses (not eligible to enroll with South Dakota Medicaid). Dieticians, nutritionists, applied behavior analyst, speech language pathologists, occupational therapists, and physical therapists (not eligible to enroll as a servicing provider of an FQHC/RHC).
OTHER SD MEDICAID POLICIES:
HIPAA compliant technology must be used
Mental health services:

Telemedicine services may be provided for outpatient services, child or youth & family services, comprehensive assistance with recovery and empowerment, or community support services program - individualized mobile programs of assertive community treatment "may be reimbursable as identified on the division's fee schedule."
EXPIRED:

Temporary COVID-19 Policies (SD Medicaid)
EXPIRED JUNE 30: NEWLY ELIGIBLE SERVICES:
Applied Behavior Analysis Services (if the recipient and provider have previously met for in-person services)

Remote patient monitoring IF the patient was hospitalized for COVID, is at risk for illness due to being 65+ or in assisted living facility, or is at risk for illness due to underlying condition

Teledentistry 

Telephonic evaluation/management for patients experiences symptoms of COVID-19
EXPIRED JUNE 30: NEWLY ELIGIBLE PROVIDERS AT DISTANT SITES: Audiologist, OTs, optometrists, physical therapists
EXPIRED JUNE 30: WAIVED REQUIREMENTS: No penalty for using non-HIPAA compliant technology
EXPIRED JUNE 30: OTHER TEMPORARY SD MEDICAID POLICIES:
Same community limitation: Originating site and distant site may not be located in the same community UNLESS the originating site is a nursing facility OR telemedicine is being used to reduce risk of exposure to COVID-19
Suspends initial face-to-face visit requirement for speech therapy

FQHCs and RHCs: 

FQHCs, RHCs, and IHS/Tribal 638 providers may provide audio-only Independent Mental Health Practitioner (IMHP) services (and SUD services, if properly accredited) IF the provider or patient is at risk for COVID/under quarantine/social distancing AND the recipient does not have access to face-to-face audio/visual technology

Audio-only services are reimbursed at the encounter rate

Well child check-ups: bill a check-up delivered via telemedicine with "52" modifier

Maximum reimbursement rate is 75% of encounter rate for FQHCs/RHCs and IHS/Tribal 638 providers

Telephonic evaluation and management: FQHCs/RHCs/IHS/Tribal 638 providers bill 98966, 98967, 98968

Reimbursed at fee schedule rate OR

Telephonic evaluation and management: Billed with CPT codes 99201 - 99215 with the modifier 52 appended

Reimbursed at 75% of applicable encounter rate

Providers must utilize real-time audio/visual technology for evaluation and management services if the patient has access. If not, the provider must document that use of real-time audio/visual technology was not possible or unsuccessful.

Remote patient monitoring (for patients at risk of severe illness or hospitalized due to COVID and requiring further monitoring): FQHCs and RHCs can bill on a fee-for-service basis using non-PPS NPI (if service is ordered by one of the allowable practitioner types)