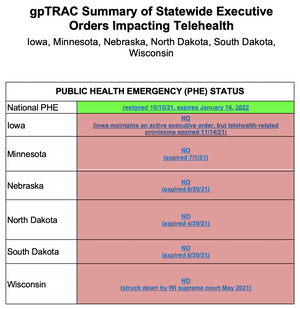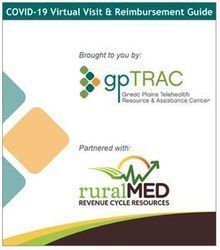 Medicaid Policies
TELEHEALTH DEFINITION: "The use of interactive audio-video equipment to link practitioners and patients at different sites." Qualified services must maintain visual contact, be medically appropriate and necessary, and use HIPAA compliant technology
SERVICE PARITY: "An insurer may not deliver, issue, execute, or renew a policy that provides health benefits coverage unless that policy provides coverage for health services delivered by means of telehealth which is the same as the coverage for health services delivered by in-person means."
PAYMENT PARITY: "Payment or reimbursement of expenses for covered health services delivered by means of telehealth under this section may be established through negotiations conducted by the insurer with the health services providers in the same manner as the insurer with the health services providers in the same manner as the insurer establishes payment or reimbursement of expenses for covered health services that are delivered by in-person means."
NON-COVERED SERVICES: Therapies provided in a group setting, Store and Forward, Targeted Case Management for High Risk Pregnant Women and Infants, Targeted Case Management for Individuals in need of Long-Term Care Services
REMOTE MONITORING: Reimbursed only in certain cases of Home Health Telemonitoring
Telemonitoring is not allowed for the initial Home Health evaluation visit or for the discharge visit. Limited to no more than forty percent (40%) of the total visits during each certification period.
PROSPECTIVE PAYMENT SYSTEM (PPS) REIMBURSEMENT STRUCTURE
Payment to FQHCs for covered services furnished to ND Medicaid members is made by means of an all-inclusive rate for each encounter. Each encounter includes covered services and supplies. Telemedicine services are billing using Modifier GT & 95, revenue code 0780, HCPCS Q3014, and POS code 02.
Payment made to only to the provider at distant site
Payment made to originating site as a facility fee
No payment for additional technology support personnel
NO reimbursement for store-and-forward
Synchronous teledentistry reimbursable "when applicable"
IHS and Tribal 638 Facilities:

Telemedicine services are reimbursed at all-inclusive rate regardless of whether the originating site is outside the physical facility/clinic
Coverage/payment is on the same basis as face-to-face contact
Temporary COVID-19 Policies (ND Medicaid)
This guidance is set to expire with the end of the national public health emergency, currently set to end mid-October, 2021
NEWLY ELIGIBLE SERVICES: Telephone services & therapy provided in a group setting (cannot be audio-only)
"Right Track" program within the Developmental Disabilities Division: screenings can be done via phone or secure videoconferencing
There will be no penalties for using non-HIPAA compliant technology
Services provided via telehealth must be eligible for reimbursement under North Dakota Medicaid
Contact can be audio-only (change from permanent policy)
No originating site fee may be billed if the originating site is the patient's home
No penalties for using non HIPAA-compliant technology
COVERED SERVICES: Patient contact with dentist who provides the problem focused evaluation using audio and visual means
NON-COVERED SERVICES: screening code D0190, dental case management (D9992), examinations via email (not audio/visual), patient contact with dentist via audio only, virtual check-in
FEE FOR SERVICE REIMBURSEMENT STRUCTURE
Revenue code 0780 should only be reported along with Q3014 when the FQHC is the originating site.
When providing telemedicine services to patients located in their homes or another facility during the COVID-19 public health emergency, FQHCs and RHCs should continue to bill revenue codes 521, 524, 525, or 529 along with the CPT or HCPCS code for the service rendered appended with modifier GT or 95.
If a non-HIPAA compliant platform is used, or the service is being provided telephonically with audio only, condition code DR should be populated in field 18 of the UB04 or the electronic equivalent.
Still non-covered services include store and forward, virtual check-in, e-visits.