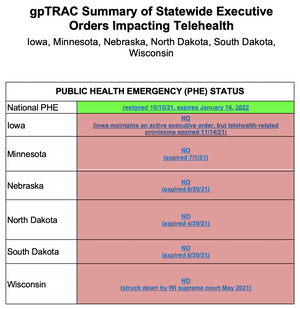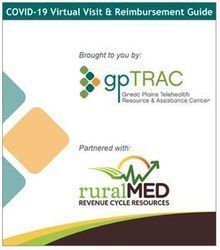 Medicaid Policies
*Signed by the Governor April 21, 2021* Telehealth includes audio-only for the delivery of behavioral health services for an established patient (applies to Medicaid and private payers). 
*Signed by the Governor April 21, 2021* The originating site is any location where the patient is located (applies to Medicaid and private payers).
*Signed by the Governor April 21, 2021* Consent for telehealth services can be given verbally during the initial telehealth consultation, provided a signed statement is collected within ten days (applies to Medicaid and private payers).
TELEHEALTH DEFINITION: "The use of medical information electronically exchanged from one site to another, whether synchronously or asynchronously, to aid a health care provider in the diagnosis or treatment of a patient"
SERVICE PARITY: Insurers cannot exclude services from coverage solely because they are delivered via telehealth
PAYMENT PARITY: Telehealth is covered by and reimbursed under Medicaid fee-for-service, and its reimbursement is, at a minimum, the same rate as comparable in-person services.
PREREQUISITES TO TELEHEALTH: Patients must give written consent before an initial telehealth consultation
REMOTE MONITORING: Reimbursable when the services are from the originating site, the client is cognitively capable of operating the equipment or has an able person to assist, the originating site has space for program equipment/transmission capability, and the provider keeps record of the medical necessity of the service/patient data (paid per diem)
ORIGINATING SITES: A location where the patient's "right for confidential and private services is protected." "The originating site fee is paid to the Medicaid-enrolled facility hosting the client for telehealth at a rate set forth in the Medicaid fee schedule."
PROSPECTIVE PAYMENT SYSTEM (PPS) REIMBURSEMENT STRUCTURE
Payment for telehealth services will be the Medicaid rate for the comparable in-person service. FQHC core services provided via telehealth technologies are not covered under the encounter rate.
Telehealth transmission costs will be the lower of: 1) The provider's submitted charge; or 2) The maximum allowable amount
OTHER NE MEDICAID POLICIES:
A patient's home may constitute an originating site
In-person contact between a health care practitioner and patient is not required under Nebraska's Medical Assistance Program
Medicaid managed care contracts include coverage of telehealth-delivered services
Out of state telehealth is covered if it otherwise meets regulatory requirements for services provided outside Nebraska AND either the patient or provider is within Nebraska
Medicaid will cover telehealth and transmission costs when the technology meets industry standards and is HIPAA compliant
For Medicaid home & community based waiver services for individuals with developmental disabilities:
Observations can be done in person or via telehealth
Providing behavioral health services to children via telehealth:
A trained staff member must be immediately available to a child receiving telehealth behavioral health service.
Temporary COVID-19 Policies (NE Medicaid)
TELEHEALTH ELIGIBLE SERVICES:
WAIVED REQUIREMENTS:
Receive rate specified by code G0071 (payment for communication technology-based services for 5 minutes or more of a virtual (not face-to-face) communication between an FQHC or RHC practitioner and a FQHC or RHC patient) when the 5-minute (minimum) communication is with a patient who has had an RHC/FQHC billable visit within the previous year AND the visit is for a condition not related to an FQHC/RHC service provided within the previous 7 days AND the visit does not lead to an FQHC/RHC visit within the next 24 hours/next available appointment