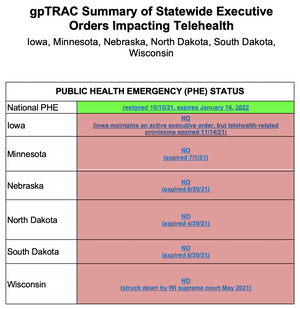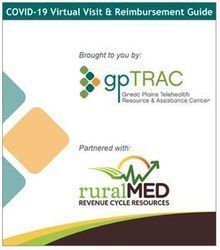 Medicaid Policies
*Effective July 1, 2021* The omnibus bill HF33, which includes a revised Minnesota Telehealth Act (2021), enacted several changes for private and state health payers and providers. A document describing these changes alongside the text of the legislation can be downloaded HERE. Significant changes include:
Medical Assistance

Audio-only telehealth services are covered until July 1, 2023
Allowing Medical Assistance clients to consent verbally to treatment plans for mental health and substance use disorder services
Mental health case management & targeted case management services can be delivered via telehealth in most situations (Medical Assistance programs)

Removing the limit of three telehealth visits per enrollee per week for Medical Assistance enrollees.

Initiating pilot studies on the use of audio-only telehealth in Medical Assistance programs.
For mental health centers: Many home and community based services (case management, disability services, home-based services, etc) were extended by waivers under the state peacetime emergency. DHS is evaluating the extent to which they can keep many of these waivers in place between state and federal authority.
*proposed update* Reduce reimbursement for telehealth visits covered by Medical Assistance to 90% of the rate for the comparable in-person service. 
*proposed update* In the Medical Assistance chapter of legislation, "interactive video" is replaced with "telehealth" (which includes audio-only services, per language in the same bill—HF1412) in the mental health section. Two other bills (SF481 and HF511) would allow mental health services covered under Medical Assistance to be provided via telehealth.
TELEHEALTH DEFINITION: "The delivery of health care services or consultations while the patient is at an originating site and the licensed health care provider is at a distant site."
SERVICE PARITY: "A health carrier shall not exclude a service for coverage solely because the service is provided via telemedicine and is not provided through in-person consultation or contact between a licensed health care provider and a patient."
PAYMENT PARITY: "A health carrier shall reimburse the distant site licensed health care provider for covered services delivered via telemedicine on the same basis and at the same rate as the health carrier would apply to those services if the services had been delivered in person by the distant site licensed health care provider."
ORIGINATING SITES: Office of physician or practitioner, Hospital (inpatient or outpatient), CAHs, RHCs, FFQHCs, Hospital-based or CAH-based renal dialysis center (including satellites), SNFs, ESRD facilities, Community mental health center, Dental clinic, Residential settings (such as a group home, assisted living, shelter or temporary lodging), Home (a licensed or certified health care provider may need to be present to facilitate the delivery of telemedicine services provided in a private home), School, Correctional facility-based office, Mobile stroke unit
ELIGIBLE PROVIDERS: Physician, NP, PA, Nurse midwife, clinical nurse specialist, RD/nutrition professional, dentist/hygienist/therapist, mental health professional, pharmacists, certified genetic counselor, podiatrist, ST, OT, PT, audiologist, public health nursing organization 
PREREQUISITES TO TELEHEALTH: Providers must complete the Provider Assurance Statement for Telemedicine
PROVIDER REQUIREMENTS: Providers must document "the provider's basis for determining that telemedicine is an appropriate and effective means for delivering service to the recipient" 
NON-COVERED SERVICES: Connections using non-HIPAA compliant technology, Prescription renewals, Scheduling a test or appointment, Clarification of issues from a previous visit, Reporting test results, Non-clinical communication, Communication via telephone, email or fax, Day treatment, Partial hospitalization programs, Residential treatment services, Case management face-to-face contact
FQHCs & RHCs:
PROSPECTIVE PAYMENT SYSTEM (PPS) REIMBURSEMENT STRUCTURE
Most in-person services can be provided via telehealth and are reimbursed at the PPS/encounter rate
OTHER MN MEDICAID POLICIES:
MHCP reimburses for interactive audio/visual communications & asynchronous store-and-forward (to send information to a reviewing physician)
Payment for telemedicine services is limited to three per week for an MHCP member
Physician services may be delivered by telemedicine to provide intensive residential treatment services
Tele-home care is covered under the Elderly Waiver (EW) and Alternative Care (AC) Programs
Telemedicine delivery of mental health services:
NON-COVERED SERVICES: Children's day treatment, Partial hospitalization programs, Mental health residential treatment services, Case management services delivered to children
ELIGIBLE PROVIDERS: Mental health professionals who are qualified under Minnesota Statute 245.462 Subd. 18 (qualified in psychiatric nursing, clinical social work, psychology, psychiatry, marriage and family therapy, licensed professional counseling, or allied fields)
Teledentistry: "Reimbursement for teledentistry is the same as face-to-face encounters. The distant site can bill for the services provided by a licensed dentist."
Early intensive developmental and behavioral intervention: MHCP does not reimburse for connection charges or origination, set-up, or site fees
Additional originating sites for SUD treatment services: Drug court office, Correctional facility-based office (including jails), Substance abuse disorder treatment facility (residential or outpatient), Withdrawal management facility
Medication therapy management services: Available for members more than 20 miles from MHCP MTMS provider;  Both originating and distant sites must be pharmacy/clinic/hospital/ambulatory care site;  Connection must be audio/visual
Temporary COVID-19 Policies (MN Medicaid)
NEWLY ELIGIBLE SERVICES: Audio-only connection
WAIVED REQUIREMENTS: The first interaction with a provider no longer needs to be in person, limit of 3 visits per weeks is ended
TEMPORARILY ELIGIBLE PROVIDERS: Community Health Worker, Public Health Nurse Clinic, Doula (pre and postnatal care only), Physician extenders, Licensed Alcohol and Drug Counselors, Alcohol and Drug Counselors, Alcohol and Drug Counselor – Temps Recovery, Peers and student interns in SUD programs licensed under chapter 245G, Pharmacists enrolled to perform medication therapy management, mental health works across a variety of practice areas
Any service that, when provided face-to-face that would generate an encounter if performed in person, will continue to generate an encounter if provided via audio-visual telemedicine
Telephone billing codes have been added
FQHCs can bill for telehealth evaluation and management
No need to bill POS 02, just modifier 95
There is a new provider assurance statement (6806) for telephone (audio-only) services
COVID-19 telemedicine services are exempt from cost-sharing
Billing for tele-Targeted Case Management is the same as for in-person services
Temporary coverage of telemedicine visits for SUD/mental health providers
Billing for SUD treatment is the same as in person
Additional SUD providers who can practice telemedicine: Licensed Alcohol and Drug Counselors, Alcohol and Drug Counselors, Alcohol and Drug Counselor - Temps Recovery, Recovery peers and student interns in SUD programs licensed under chapter 245G