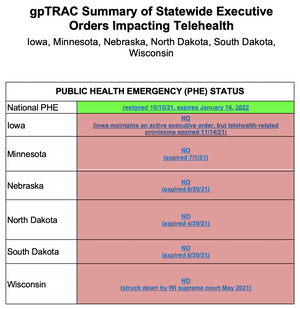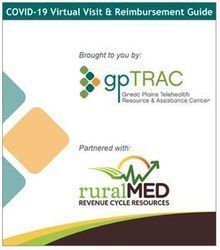 Medicaid Policies
TELEHEALTH DEFINITION: "The delivery of health care services through the use of interactive audio and video." Telehealth does not audio-only, email, or fax communication.
SERVICE PARITY: Health policies "shall not discriminate between coverage benefits for health care services that are provided in person and the same health care services that are delivered through telehealth."
PAYMENT PARITY: "Health care services provided through in-person consultations or through telehealth shall be treated as equivalent services for the purposes of reimbursement."
PREREQUISITES TO TELEHEALTH: In person contact is not required as a prerequisite for payment for telehealth services
REMOTE MONITORING: Not covered
ORIGINATING SITES: The offices of physicians (provider types 02, 03) and other practitioners (psychologists, social workers, behavioral health providers, habilitation services providers, and advanced registered nurse practitioners (ARNPs)), hospital, CAH, RHC, FQHC, CMHCs, AEAs and LEAs (newly added 2020)
DISTANT SITES: Physicians, NPs, PAs, nurse-midwives, CNSs, CRNAs, clinical psychologists, CSWs, behavioral health service providers (independent social workers, master social workers, marital and family therapists, mental health counselors, certified alcohol and drug counselors), FQHCs
FQHCs & RHCs:
PROSPECTIVE PAYMENT SYSTEM (PPS) REIMBURSEMENT STRUCTURE
FQHCs are paid based on the PPS/encounter rate if the service is PPS qualifying. This is generally the same as the reimbursement process for in-person services
FQHCs and RHCs can serve as originating sites, FQHCs can serve as distant sites

Originating sites usually use HCPCS code Q3014 for facility fee -- FQHCs and RHCs do not bill Q3014 as a separate service because reimbursement for the related costs would occur through the annual cost settlement process.
OTHER IA MEDICAID POLICIES:
Medicaid provider reimbursement: Generally, institutional types of providers such as hospitals and nursing facilities are reimbursed on a cost-related basis, and practitioners such as physicians, dentists, optometrists, and similar providers are reimbursed on the basis of a fee schedule
Temporary COVID-19 Policies (IA Medicaid)
This guidance expires 60 days after then end of Iowa's public health emergency, which expired July 25, 2021
SERVICES NEWLY ELIGIBLE FOR TELEHEALTH:
Behavioral health, teledentistry, PT, OT, ST
Audio-only telehealth services
Codes established for REMOTE MONITORING of physiologic parameters, remote physiologic monitoring treatment management services
WAIVED REQUIREMENTS: "Established patient" requirement suspended
Providers can provide telehealth from their home
For medicaid managed care & fee for service:
Redefines "distant" and "originating" sites as locations of provider and patient (can provide and receive services from home)
Premiums/cost-sharing obligations suspended
Expanded list of services and providers who can bill for them (including, but not limited to, physicians, physician assistants, dentists, physical therapists, occupational therapists, speech therapists, home health, hospice, behavioral health and home and community-based services (HCBS) providers)
Expanded teledentistry policy:
Codes D9995 & D0140 can be billed, effective 3/13/20